Primetime Invite 2015 Preview by Matt Hook
When late August rolls around it signals one thing for us – the start of Cross Country all over again. The beginning of the season in southwest Ohio wouldn't be complete without another Moeller Primetime Invitational presented by Buckeye Running Company. Hosted at the Kings Island Tennis Center, this year's meet is shaping up to be the best one yet. With up to 30 teams competing, the meet has grown to one of the premier meets in the early season slate. The high school races will start on Friday August 28th at 6:25 and conclude with the Boys Varsity race at 9pm under the lights!
The Boys team field is a loaded one. OH#10 St. X will look to defend their crown for the 4th consecutive year, but they will have to get by a tough group. You have defending state champ and OH#2 Mason leading the pack, but close behind is OH#4 Olentangy Orange. Also racing is OH#13 D2 Carroll. Also in the field locally are the host team Moeller, Kings and Milford among others. From a first glance, this looks like a tough one to call between Mason and Orange, but St. X will surely make their presence felt.
Individually there should be some fireworks up front with Ben Ewert of Beavercreek as the pre-race favorite. The trio of Hunter Moore, Brandon Lane and Brandon Morrow from Orange will not make it easy on him. The front trio of Austin Angeline, Justin Grender and Chris Reischel for St. X should make an appearance towards the top as well as Justin Koehler, Alan Gordillo, Jakob Mueller and Jake Bauer from Mason. The Comets are coming off a nice pack run at the OHSAA preseason invitational where they had a 33 second split from 1-5.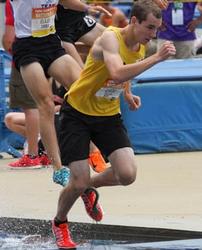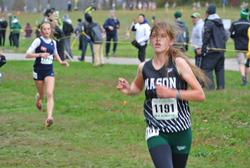 Boys favorite Ben Ewert won USATF 2K Steeplechase - Maegan Murphy is the girls favorite.
On the girls side, the team race should be even more competitive, with a deep and talented field led by the team from Mason. These girls finished runner-up at State last year and are currently ranked 2nd to start this season. OH#5 Beavercreek is also in the race as well as OH#17 St. Ursula and D2 OH# 17 Eaton and local mainstays Ursuline and McAuley. Mason is coming off of a 3rd place finish at the OHSAA meet and SUA had a very respectable 9th place finish. It looks like the early edge goes to Mason, but it won't be easy.
We are guaranteed a new champion in the girls race this year, as past champion Annie Heffernan is now racing for Notre Dame. Maegan Murphy of Mason looks the be the pre-race favorite after her 4th place finish at last year's state meet. Teammate Ellie Brush will also be looking for a high finish in this race. Other contenders at the top include Jessica Hartman of Lebanon and Emma Bryant of Vandalia Butler. Rounding out the top of the field you have Erica Schloemer of Seton, Ailee Henderson and Leah Ford of Mason, Jordan Grant and Lauren Shuman from Beavercreek and Christi Caulley from Eaton. This could be a very quick race in the top 10 with plenty of competition to push the pace.
Timing is being provided by FinishTiming, with live results available. Be sure to stop by the Kings Island Tennis Center to take in the spectacle that is running under the lights on a golf course. The 2015 edition of the Moeller Primetime Invitational is sure to be the best one yet!